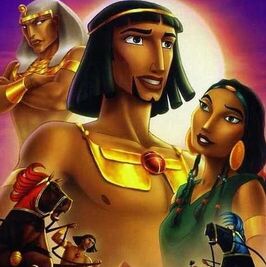 Welcome to The Prince of Egypt
Learn about the characters that lived during one of the most famous periods in history. All people, regardless of nationality or religion, have benefited from the story of Moses and the Exodus. This page is dedicated to the DreamWorks Animated film, The Prince of Egypt.
Words of Wisdom
Edit
The Prince of Egypt is a religious story made from the account of Exodus in the Bible. It is based upon the true story of Moses, a Hebrew, being saved from being thrown into the Nile River (that was ordered by Pharaoh Seti) by his mother, Yocheved, and raised by Pharaoh Seti's wife and raised as a prince with his foster brother, Rameses, the son of the Pharaoh and the heir to Egypt's throne. 
Favored Articles
Edit
Ad blocker interference detected!
Wikia is a free-to-use site that makes money from advertising. We have a modified experience for viewers using ad blockers

Wikia is not accessible if you've made further modifications. Remove the custom ad blocker rule(s) and the page will load as expected.